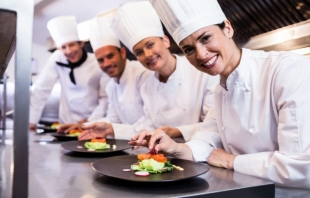 Indian Chef Recruitment in the USA
Apart from growing demand for Indian IT skills, Indian cuisine and
Indian chef required in USA
are gaining worldwide popularity. Owing to the increasing numbers of expats in India and Indian immigrants in every corner of the world, a plethora of opportunity has developed for Indian chefs and cooks in abroad countries. From 5-star restaurants to wide chains of multinational hotels and commercial kitchens, Indian chefs and cooks have a global promising career, especially for a chef looking for work in USA.
The USA is a country with diverse cultures, languages, and customs. Since, people from different countries have immigrated to the USA over the last few decades, the country is now home to variety of food cultures and cuisines. Today, the food and hotel industry in both India and the USA has gone through great food transformations.
Constantly evolving customer and their food preferences have played critical role in culinary profession in both the countries. Ultimately, there is a great demand for Indian chefs for hire in USA. Consequently, the number of Indian-chef recruitment agencies in USA is rapidly increasing.
However, for Indian chefs for hire in USA, it requires thorough research about employment statistics, listing out jobs, application procedure, visa requirements, thorough preparations, etc. Right from applying to jobs to settling in the United States, it is a lengthy process that requires much more detailed aspects to be focused on. Nevertheless, there are multiple chef recruitment agencies that take care of the entire process for an Indian chef required in USA. Cookfinder is a chef recruitment agency providing chefs and cooks to hotels and restaurants globally; Cookfinder's presence in the USA is significant with large database of clientele. In the USA, hotel and restaurant industry was established nearly 400 years ago. With globalization and development, there are over 55,000 hotels in the entire USA.
For Indian chefs for hire in USA, it is crucial to have a smooth transition between the two different cultures. Agencies, such as Cookfinder, have various domains around the USA for chefs to consult for troubleshooting. Moreover, there are other benefits of choosing these agencies:
Training: For any Indian chef required in USA, companies based in the USA look forward to hiring chefs and cooks with basic training and experience in the profession. Although a candidate is hired by a hotel or restaurants, it seems challenging for chefs to stand up to the expectations. Thus, to minimize the initial difficulties, recruitment agencies proffer training to chefs and cooks before they start working in American culture.
Career counselng: Career counseling is important for any Indian chef looking for work in USA. This helps them better understand their future career prospects in the USA.
End-to-end support: Indian cooks and Indian chefs for hire in USA can approach the agencies in case of any potential conflict or current issues faced in their work environment. Additionally, companies can report back to the agencies of any misconducts of chefs and cooks. The agencies immediately look into the matter, providing instant unbiased support.
Indian Chef Jobs in United States
Visa application and legal procedures:
A visa offers temporary permission to stay in the country. An Indian chef looking for work in USA first needs to acquire a work visa when moving to the USA for career. Few important visa applications that are completely taken care of by these agencies are as follows:
Specialty Workers—H1B—visa is designed for immigrants who wish to work in a specialized field, for which companies usually sponsor their employees.
Temporary Skilled or Unskilled Workers—H2B—visa is for immigrants who want temporary, non-agricultural positions.
The Intracompany Transferees—L1—is for immigrants who will be working for a company that has operations in America.
J-1 Industrial Trainee Visa is for young chefs and cooks working in the USA. The visa is valid for 18 months. Many USA-based hotels and restaurants conduct J-1 programs exclusively for training in culinary arts.
Employment-based Preference visa is for those who are already employed. This visa needs to be requested for by the employer.
These chef recruitment agencies guide a potential candidate in listing out top hotels, restaurants, and fast food chains that are most suitable to the candidate profile. With client-centric work ethic, the agencies ensure that neither the candidate nor the company will have any hassle during the whole process. Miscommunication is eliminated by getting the candidate in direct contact with the hotel/restaurant authorities.
The number of Indian chef required in USA in greatly increasing. Many Indian cooks and chefs apply to many chef recruitment agencies, such as
Cook Finder
, in order to fly off to the USA to increase their culinary knowledge and become a successful recognized chef. The USA is known for being the melting pot of the world wherein annually thousands of immigrants, including Indian chefs, come to pursue their dreams in the big metropolitan. The country thus houses numerous cultures, foreign nationalists, and cuisine culture. There is a never-ending opportunity for an Indian chef looking for work in USA. All you need is right end-to-end guidance for your future endeavors.