Lounge
Franchise Opportunity
Pub franchise and lounge bar franchise in India are touching new horizons. In the recent years, lounge franchise opportunities will turn out to be very profitable for entrepreneurs. Various brands that can be explored in this segment include bar and grill franchise opportunities, pub franchise opportunities, wine bar franchise and lounge bar franchise in India. Cookfinder can help you understand the functioning of each segment.
Lounge franchise opportunities have been tremendously expanding owing to the fact that they have now been accepted by the masses as a means of celebrating and having gala time after a hectic and stressful work week. People usually look forward to going with friends to bars and pubs that serve great food, good liquor and mood-lightening music.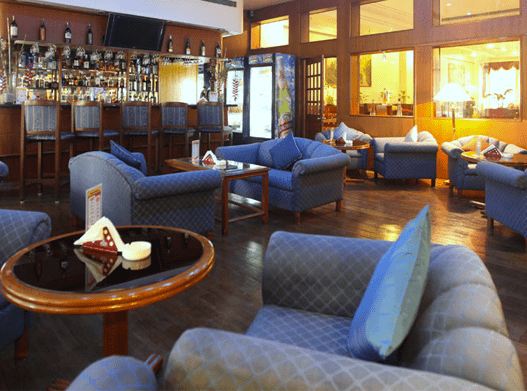 Opening your lounge bar, pub franchise and wine bar franchise is indeed an economically rewarding business with high return on investments. It is considered easier and fascinating than most 9–5 job routine. However, as glorious and delighting as it may seem, it is one of the most tricky business strategies, associated with high risks. As per Cookfinder's estimate, approximately 60% of all bar and grill franchise opportunities and lounge bar franchise in India shut down within first year of their operations. Thus, it is very crucial to have a proper guidance from the experts. Cookfinder provides you with a clear plan and understanding of the pub franchise before you venture into the industry and their pub franchise opportunities.
Herein, Cookfinder will explain to you in detail how to open a lounge, pub franchise and wine franchise in India. We will discuss the investments, locations requirements, workforce and licenses that you need to secure before opening the bar. In India, there are nearly 6 kinds of bar formats: club, specialty bar, sports bar, franchise bar, beer bar and neighbourhood bar. Once you know what you need to get into, here's how you need to get into it.
How to start a lounge business / lounge franchise with Cookfinder
1. Location
For a successful lounge franchise opportunities, you will require an area of 5,000–10,000 sq. ft. spread over one to two floors. As per the recent trend, it is ideal to have both close sitting and roof top sitting so the customers can experience both types of ambience that suits their mood, choice and necessities. The ideal location for any lounge bar and pub is high-end shopping street, markets, malls and near office complexes. According to Cookfinder's analysis, pubs and bars that are in the vicinity of office complexes, which have more than 10,000–20,000 employees are the best locations. The footfalls in such localities are very high. The average rent for mentioned space can be around Rs. 2 lakhs to Rs. 2.5 lakh, which depends on the locality and market price. Also, while choosing an area that has a designated parking lot is very convenient to customers always.
2. Kitchen designing and equipment
Right equipment does not just make entire process easy, it also helps in being less dependent on employees. Liquor bottle shelves and bar speed racks, garnish trays, liquor dispensers, portable bars, ice makers and bins, commercial beverage dispensers, bar sinks are few must-have equipment. Apart from these regular ones, pub franchise, wine bar franchise and lounge bar franchise in India have come up with a trend of having their own distillation units for in-house brewing processes. Cost of total kitchen set up also depends on the cuisine one serves. The total cost varies from Rs. 5–7 lakhs and liquor storage may cost from Rs. 10–12 lakhs.
3. Service
Among the increasing lounge franchise opportunities, the ambiance and colours of your bars and pubs are very important factors. Customers usually walk in to have a good time and relax. Hence, the perfect ambiance and colours play a critical role in lightening up the mood. Cookfinder's experts can help you with deciding theme of your place usually advising to have more soft cushy seats, sofas, loungers and comfortable chairs for your guests. A strong POS is a dire need for any bar franchise opportunities and pub franchise opportunities in India for better and sufficient management of your place.
4. Registration
For successful bar franchise opportunities, more approvals and licenses are required. A minimum of eight licenses are necessary which Cookfinder helps you obtain for you pub franchise and wine bar franchise. Liquor license, shop establishment license, police eating house license, local municipal authority license, FSSAI license, fire safety certificate and GST registration are very important ones.
5. Staff and management
Approximately 30–35 staff members are required for a proper functioning of a bar. Bartenders are the most important entity. A professional bartender can always find ways to entertain the crowd with his/her bartending skills. Other staff includes head chef, chef de partie, commis, helpers, waiters and bouncers. Cookfinder helps you in recruiting highly-skilled staff and takes care of their routine training.
6. Marketing
The very first step in promoting your bar and pub is to create a website, Cookfinder's professionals make sure to design your website and make a functional and responsive one. Website is important for your bar's address, contact details, it helps publicize your place. It is also important to optimize your online presence. Cookfinder also helps you with advertising in local newspapers, magazines, etc.
Before you start with everything, determine who your clients are, what they do, what they need and what they look for while entering into the pub or lounge. In short, tap into your customer's psychology. Understanding your clients and keeping them happy always go long way while running a successful pub franchise, wine bar franchise and lounge bar franchise.
Apply Now