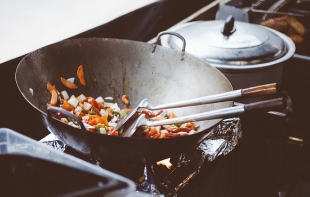 In the long run of ethnic cuisine, there is probably no cuisine more popular than Chinese cuisine. Cherished worldwide today, Chinese cuisine has nearly become an integral part of everyone's lives. Be it America, Asia, Australia, or Europe, the restaurant menu will always be enlisting fried rice, noodles, soups, and chow mein. Irrespective of your going out for a dinner or ordering in at home, you surely have tasted Chinese food one time or another. It is not just a Chinese restaurant franchise or Chinese chefs that make the food so popular. In India, Chinese food is also sold at roadside makeshift stalls, which are most of the times crowded.

In India, where uncountable multinational cuisines are enjoyed every single day, there are a lot more Chinese restaurant franchisees operating in the country than other fast-food chains, such as PizzaHut, McDonalds, and Taco Bell. We Indians prefer Chinese food to such an extent that not only Chinese restaurant franchisees but also non-Chinese-themed restaurants and hotels serve the Chinese menu.


What makes Chinese food more popular than any other Cuisine in India
Chinese cuisine is incredibly versatile with global appeal. The taste of Chinese cuisine is appealing to a large cross-section of the Indian population. The easy process of cooking Chinese recipes is another reason for the increasing popularity. Chinese cooks do not need complex cooking appliances or complicated recipes. A large wok with a gas cylinder and a chopping board with knives are all that are required by Chinese chefs. Less time required for cooking and light ingredients that are subtle in the digestive system adds a sense of freshness and health, adding to the popularity of Chinese food in India.
Unlike other international cuisines, such as Italian, Mexican, or French cuisines, Chinese cuisine costs way less or is considerably inexpensive, as much as any average meal. Come to think of it, and you will buy nearly 3 bowls of noodles at the price of one large pizza. Combined with great quality and taste, Chinese has come to be widely popular across the Indian subcontinent and other countries. Blending exotic flavors and spices with unique authentic recipes, Chinese food has eventually emerged as the top ethnic cuisine and the most popular worldwide. Chinese food is predominantly popular in and out of Asia.
Indian–Chinese cuisine!
During the time in India when the concept of home delivery or ordering in was not yet established, Chinese cooks and Chinese restaurant franchisees and hotels were the first to bring into practice the ideology of doorstep delivery, increasing convenience among foodies. Chinese restaurant franchisees are also open during holidays and late-night, increasing their easy access to customers. This cuisine has been known to Indian long before McDonalds and PizzaHutswere first established in the country; so much so that even restaurants and hotels serving Indian food usually include a Chinese food section on the menu.
When Chinese migrated to India and established their temporary colonies, they started selling the taste of their local cuisine. Once they figured out that Indians love spicy food, the Chinese merely spiced and greased their cuisine into a glutinous winning combination. There is not any intense theory behind how Chinese food began adapting itself to Indian tastes, but the relation dates back to Calcutta's second Chinatown, Tangra, where the Hakka Chinese set up leather tanneries.
"Chinese food is like comfort food for us," PriyaBala, the author of Secret Sauce: Inspiring Stories of Great Indian Restaurants, mentioned in her interview with Quartz. "We do not even think it's Chinese; it's very familiar and comforting."
In simple terms, Chinese food served in India is the adaptation and amalgamation of Chinese cooking techniques and seasonings with a unique tadka created to please our desi palate. On any given day in India, foodies are proffered thousands of choices. There's now Japanese–Peruvian cuisine, French patisserie, Mexican tacos, and more. However, all these choices have not yet drawn away crowds from Chinese restaurant franchisees and hotels, such as China Kitchen, Plum by Bent Chair, and Radisson Blu. From fancy dining to street joints, numerous restaurants have been serving Chinese, quintessentially Indian–Chinese food, including spicy gravies, saucy noodles, and rice, and varieties of Manchurian; however, all of these bear little resemblance to the authentic food eaten in China.
The most profitable and well-rooted Chinese food franchisees in India:
1.
Yo! China
Established in 2003, Yo! China is one of the most trusted and leading brands in the Chinese restaurant franchise sector. Today, Yo! China is India's largest chain of Chinese restaurant franchise with 60 outlets located across 22 trending cities. A strategic franchise partnership with Yo! China is very profitable.
2.
Wok Express
One of Indias only Chinese Food Quick Service Restaurant brands, Wok Express has nearly 35 restaurants across Mumbai and has recently launched its first restaurant in Pune.
3.
Mainland China
It is definitely the most popular and the largest chain of Chinese fine dining and casual dining restaurants and confectionaries. Mainland China is owned by Speciality Restaurants Limited and has taken over the market in the last couple of years.
There is a Chinese saying that states food is heaven for people. With over 5000 authentic recipes, Chinese cuisine is as varied as Chinese chefs, China's people, and geographical areas. Traditionally, Chinese cuisine is meant to be enjoyed for the appearance and aroma, taste and texture, and balance and harmony of yin and yang elements and its nutritious properties. Given all the factors together, it is much clear to understand how Chinese cuisine became so popular in India. Simply put, Chinese food tastes too good. So, why to resist food when it is so good? Chinese food, without a doubt, satisfies the stomach as well as taste buds of foodie Indians, making it so popular across the entire Indian subcontinent.